Art As Catharsis is proud to release LACK THE LOW's stunning debut album, One Eye Closed – a catchy and challenging avant-pop record composed, performed, recorded and produced by musical virtuoso Kat Hunter through a three-year DIY process.
Riddled with warped sounds, delicate piano and thickly layered production, Futureheavy is the engulfing first single from One Eye Closed.
Hunter's vocals shine like a beacon over a turbulent sea of instrumentals with drifting keys, humming synths and drums rippling across its surface. Every instrument phases in and out of the song, coming and going as it pleases before finally arriving at a monolithic crescendo of synth and voice at the middle of the song. After easing back into isolated horns, Futureheavy ends in perfect silence – a fitting wind-down to the dense wall of noise just passed.
With this first release, Hunter instantly proves herself as a talented composer/producer who isn't afraid to push the envelope. Stylistically, her math-inspired experimental pop weaves between soaring Thom Yorke-esque vocals, complemented by dense instrumentation and triggered brass comparable to the likes of Joanna Newsom and late-era Bon Iver. The detailed, piano driven compositions featured on One Eye Closed boasts the maturity of artists sitting several records into their career – making this debut all the more impressive.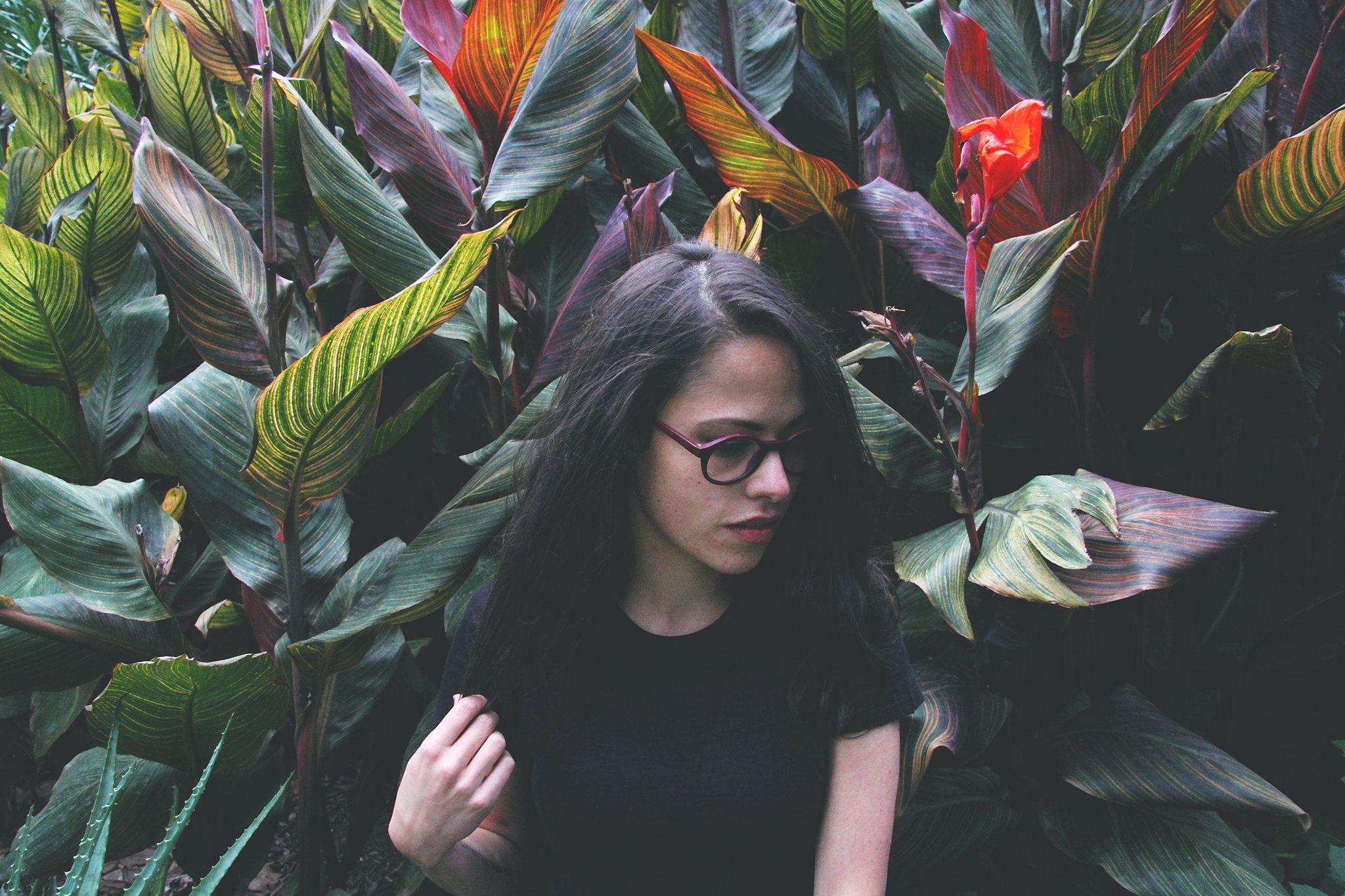 Pieced together over a period of three years, Hunter tracked, recorded and mixed One Eye Closed from the comfort of her own living room. Beyond writing and performing on eight different musical instruments throughout the process, Hunter took the effort to learn mixing and electronic production in preparation for the album's release. After an extensive period of research and planning, One Eye Closed comes into the world as a DIY masterpiece. You can practically hear the incredible craftsmanship – and effort – as each song ticks over.
The album's lyrical and instrumental themes are intrinsically tied, both of which offer insight to Hunter's educated way of creating, as she explains:
"Playing with time signatures is something that's always come naturally to me,' says Hunter. 'The level of complexity in the melody, harmony, meter is always relative to what I'm trying to say in the piece. A lot of the songs are about an imagined future – sometimes dystopian. There are some themes of global warming, mental illness, sexual assault, cults, fatalism, but also some more hopeful moments in there too."
Hunter hasn't skimped on the details. Hiding under the fluttering harmonies, every listen bears something new to find – you could find yourself stunned by the towering highs and smooth lows of her vocal range; losing yourself in the orchestral piano compositions or even appreciative of the unusual drumming as you try to tap out the beats on your leg. Continuing on this trajectory, Lack The Low will almost certainly be on end-of-year avant-pop lists – and is well within reach of creating a critical masterpiece in the near future.
Lack The Low's One Eye Closed releases on 19 April, 2018. Her first single, Futureheavy, comes out on 8 February, 2018.
Catch her live at NICEFEST Melbourne on 28 April, 2018.
Download: Lack The Low – Futureheavy (MP3)
Download: Lack The Low – Futureheavy (FLAC)
Listen on Soundcloud
Listen on Bandcamp
For an advanced copy of the album and interview requests, please get in touch.

– Lachlan,
Art As Catharsis
(e) lachlanrdale@gmail.com
(t) @artascatharsis
(m) 0403-948-048
(w) www.artascatharsis.com